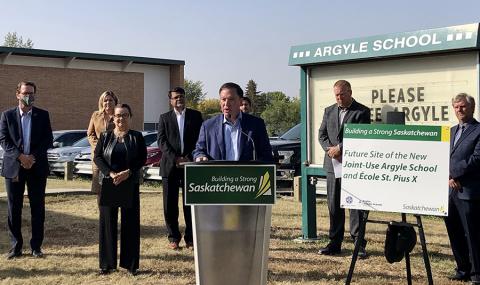 On Friday, September 18, 2020, provincial dignitaries, as well as Mayor Michael Fougere and SSBA President Shawn Davidson, were part of a second announcement. MLA Gene Makowsky introduced Deputy Premier Wyant, who announced the $47 million investment in the Argyle/St. Pius X joint-use school. Chairperson Gagne spoke on behalf of the Regina Board of Education.
The school will be built on the Argyle School site and will replace the existing Argyle School and the nearby Regina Catholic Schools' École St. Pius X. The current Argyle School will continue to operate until the construction of the new school is complete. The new joint-use school will cost $47 million and will accommodate 400 Regina Public and 400 Regina Catholic students.
Also in attendance at the event were Bob Kowalchuk, Regina Catholic Board Chair, and Adam Hicks, Regina Board of Education Vice-Chair and trustee for the area, as well as representatives of the administrations of both school divisions.
After a long wait, I know that the Argyle school community will welcome the announcement of a new school building to meet the needs of this vibrant community," Regina Board of Education Chairperson Katherine Gagne said.  "Working together with the St. Pius school community will create two new school buildings that may help build the heart of this community and promote its students' changing educational needs."
For more information about the announcement, please see the Government of Saskatchewan release: https://www.saskatchewan.ca/government/news-and-media/2020/september/18/new-joint-use-elementary-school