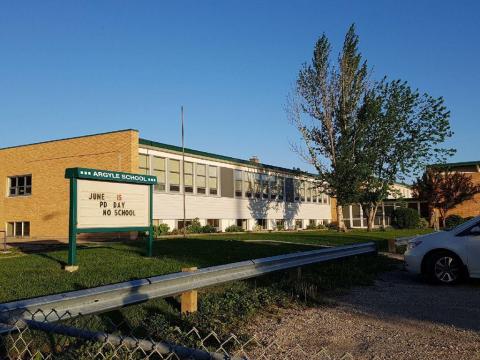 November 2019 -
The St. Pius/Argyle rebuild announced in March 2019 is a joint-use facility, and planning for this project continues. At this point, no decisions have been made regarding building size or placement, nor has parking been decided.
The current step the team is working on is choosing an architect. Once that is complete, the design team will meet with the school communities. Those engagements are expected in winter 2020.
At this point, the project does not have approval to move further toward construction.
A webpage will be developed to hold updates on this project, and will be updated as frequently as new information comes available, but likely about monthly
June 2019 -
Progress of the Argyle School Rebuild
In June, Argyle SCC members met with Regina Public School Trustee-Adam Hicks, Regina Public School Division staff, school staff and representatives from the Ministry of Education for an update on the progress of the Argyle rebuild.
Several key items came from that meeting.
1.      The proposed joint-use school between St. Pius and Argyle at the Argyle site will be designed to accommodate 400 students per school with room to add relocatable classrooms to accommodate an additional 100 students per school.
2.      The partners (City, School Boards and Ministry) will be working together to find sufficient space to accommodate the school and parking.  The two school boards will be making an official request to the City of Regina to acquire space on the corner of Lakeview Avenue and Kings Road, former city tree and leaf drop off, for staff parking.
3.      In July an RFP for project management services on the rebuild will be issued, followed by a tender for architectural services (consultant).
4.      The project manager will work with the school divisions, ministry and consultant to draft a project timeline.  The project manager will work with the consultant on the feasibility of a joint school at the Argyle site. It is estimated the feasibility analysis will take approximately 3 months to complete.
5.      Generally, a new school build takes approximately 12 to 18 months to design and two years to build.
6.      If the feasibility analysis does not support a joint use school then next steps will need to be reviewed which may include single-use schools on the existing sites.
April 2019 -   Regina Public Schools and the administration of Argyle School are very excited about the Government of Saskatchewan's announcement about the consolidation and replacement of Argyle and St. Pius schools. We are looking forward to a new school building! Here is the government release: https://www.saskatchewan.ca/government/news-and-media/2019/march/20/finance-budget-capital-funding
For your information, before any further information relating to the project can be shared, there are many steps that must be completed. Both school divisions are working with the Ministry of Education and awaiting further direction about the scope of the project (what size the schools will be) and what the funding will include. Additionally direction from the Ministry of Education will also help determine the appropriate site location.
We are looking forward to working with the school community on this project, but prior to any consultation and design process, a project manager and architectural firm will need to be hired through a process led by the Ministry of Education. This process will also determine all timelines.
As more information becomes available we will share it with the Argyle School community through our website and through other to-be-determined communications.