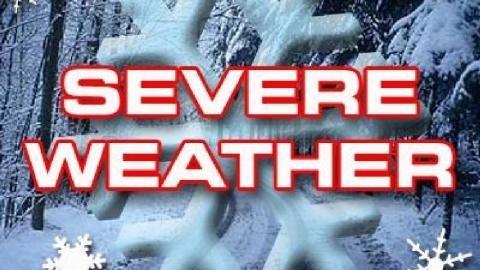 Severe weather is a way of life in Saskatchewan. In Regina, it gets cold in the winter. There are severe weather conditions that include snow, ice, blizzards and windchill  that we have come to expect.
Read this article about what to expect and how to provide feedback.
Going to school is also a way of life for our students and staff, regardless of the weather. Very rarely are Regina Public schools closed during a regular school day. Even in a blizzard! School buses and transportation similarly will run in most temperatures.
When it gets cold or snowy, parents often ask, "Is school cancelled?", "Are the buses running?" and "Will there be indoor recess?"
Below are a few things to know about severe winter conditions and school days at Regina Public schools.
The school principal shall ensure that school procedures are in place so that students are not unduly exposed to cold or inclement weather.
In elementary schools, main entrances are to be opened not later than 8:00 a.m.
In high schools, main entrances are to be opened not later than 7:30 a.m.
Parents/guardians are to be reminded that playground supervision is provided 15 minutes before morning and afternoon classes at elementary schools.When determining if students should remain indoors, principals shall consult

Administrative Procedure 356 – Appendix: Extreme Weather Guidelines.

When students have an outdoor recess in cold or inclement weather, they are to be allowed to re-enter the building at any time during the recess period.
Any student presenting a written request from a parent/guardian is to be excused from going out of doors during recess.
Snow Days:
There are rarely snow days in Regina Public schools.
Staff will go out of their way to ensure schools are open in all conditions because we recognize that students may show up to school, regardless of weather.
In the rare event that during winter a school does not open or must close during the day, it is usually for heating/mechanical issues. In these cases, the school division will make every effort to contact families through a School Connects notification system and through this website, twitter and the local news media.
Buses and other student transport will run in snowy conditions unless roads are impassible. Families would be similarly informed in the remote chance that transportation is cancelled due to weather.
Families should always prepare for buses to run a little slower in extreme weather conditions and to ensure that their children are warm and safe until picked up from the established pick-up spots.
Parents should note that Regina Public Schools only operates schools in the City of Regina. Many bus cancellations reported on the radio are for schools outside of the city, schools that require highway transport. Our buses stay within the City of Regina for daily student pick up and drop off.
Extreme Wind Chill:
Regina Public Schools has new administrative procedures relating to wind chill and bus cancellations. See AP 570 for details.
If the wind chill is –45C or lower at 6:00 a.m., all student transportation will be cancelled.

If the wind chill is –40C or lower at 6:00 a.m., some transportation (including Paratransit) for students requiring vehicles equipped with lifts (for students in wheelchairs) will be cancelled.

All schools will remain open, unless otherwise notified.

In the event of any cold weather/wind chill cancellations, parents will be notified by School Connects telephone or text notification system. Please ensure that your correct contact information has been recorded at your school.

In the event of a system-wide transportation cancellation or school closure due to weather, all local Regina TV, newspaper and radio outlets will broadcast this information both on the web and on the air.

Information will also be tweeted by @RegPublicSchool, and announced at www.reginapublicschools.sk.ca in the Important Announcement section.
Families should ensure that students dress for the weather in all conditions. Let's keep all our students warm, happy and safe! If you have any questions, please contact your local school principal. Please click here for the list of schools and their phone numbers.
Please follow local news media and this website for more updates and follow us on Twitter. @RegPublicSchool